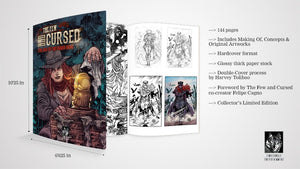 A team of expert artists have produced over 150 artworks exclusively for the game and we have collected them all in a gorgeous 144-page hardcover book.
We have also included a deep and insightful look into the whole process from layouts to fully colored artworks from seasoned comic book pros like Luke Ross, Will Conrad, Harvey Tolibao and many others.
Artists for The Few and Cursed Board Game have worked for Marvel Comics, DC, Image Comics, Dark Horse, Upper Deck, IDW and other publishers. Enhance your gaming experience by going deeper into the lore and world expansion with this exclusive Art book.