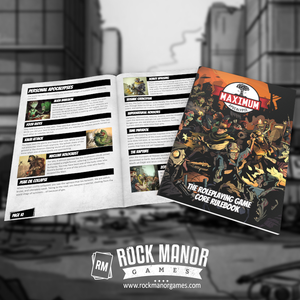 The Core Rulebook is the essential reference for every Maximum Apocalypse roleplayer. It contains rules for character creation, skills, exploration, scavenging, combat, crafting, equipment, vehicles and much more. Use this book to create survivors of the apocalypse based on their occupations before the world fell.
Maximum Apocalypse RPG immerses you in a world suffering from multiple extinction level events. Explore the ravaged ruins of cities and wander the wasteland. Battle everything from invading aliens to roaming zombies to sentient machines while searching for food and components to keep you alive. Gain experience and proficiencies in more skills as you work together with other survivors.
Can you survive the Maximum Apocalypse?